Secure, compact, and reliable – a remote access gateway that really works.
The ControlBright Remote Access Gateway (Football)
A small cellular device, about the size of a deck of cards. This device connects via USB for power, OR via 6-28v AC/DC.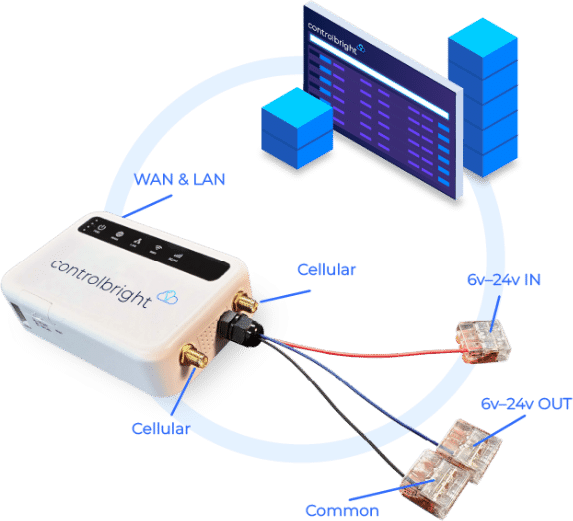 WiFi
WIFI is provided via an internal antenna, no external antenna is required. WIFI may be used to either connect to a local network for internet connectivity, OR it may be used to access an IP device behind the Football.
AC/DC Relay
AC/DC relay built into the Football, providing a means to hard power cycle attached devices via the ControlBright portal.
WAN / LAN
Featuring two network ports, the Football may be connected to a local network via it's WAN port, and an IP device (or switch) via it's LAN port. For additional flexibility, the WAN port may be repurposed as a LAN port, providing two LAN ports.
Cellular
Each Football arrives pre-populated with a SIM card and two SMA antenna ports for connecting the included cellular antenna. The default antenna has a 6ft lead to aid in positioning it for the best possible signal.
Flying Leads
Wall outlets are not required when using the flying leads. Simply place the Football in between a low voltage PSU and the IP device to be controlled with 6-24v AC/DC. Not only does this provide power, but also allows the user to remotely reboot the IP device via the ControlBright portal. If a low voltage power source is not available, the micro-USB port may be used with the included 2A wall adapter and micro-USB cable.
Options
There are many available options to enhance the capabilities of the Football, including high gain antennas, antenna extension cables, DIN rail mounts, etc. Please contact your distributor or drop us a note if you would like more information.
External Expansion
The Football has a small plastic door that may be opened to reveal the SIM card, as well as a microSD slot that can be used to expand onboard storage. A maximum microSD size of 128GB is supported.
Remote Reboot
As we all know, sometimes a reboot is all that's needed to clear errors or bring a device back to life. Unfortunately, if software has caused the device to lock up, it may not be possible to do a software-based reboot. The ControlBright Football has a small relay built into it, capable of switching low voltage AC or DC loads.